There are just so many hopeless romantic. .That includes me. I love to watch any show that has to do with falling in love. Koreanovelas sends different emotions towards me, and perhaps to you as well, and I think that's the main reason why I am head over heels with this Koreanovela trend.
So let's start with the list of these must watch and best Korean TV series of all time.
My Girl (2005)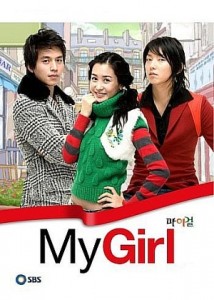 Starring Lee Da Hae (Joo Yoo Rin), Lee Dong-wok (Seol Gong Chan), Lee Jon-gi (Seo Jung Woo) and Park Si-yeon (Kim Se Hyun). Honestly, I didn't like the female lead… at first. She was just too annoying and it seemed like she couldn't stay at one place without doing clumsy things. Nonetheless, it was fine for she was able to change especially when she had drawn close to Gong Chan. Only proves that one can change for the better when in love.
Image: Asianinfo
Only You (2005)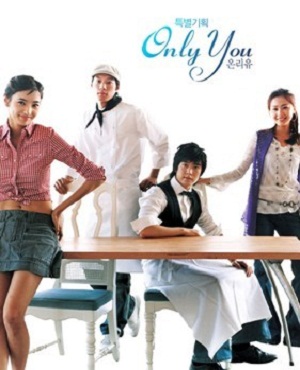 Starring Han Chae-young (Cha Eun Jae), Jo Hyun Jae (Han Yi Joon), Lee Chun-hee (Jung Hyun Sung), and Hong Soo-hyun (Ji Soon Yeon). This koreanovela is actually one of my favorite TV drama. I loved how Eun Jae and Yi Joon ended up making love without knowing each other that much, in short, it was a whirlwind romance. But the story's catch didn't end up from there because they went in separate ways while Eun Jae got pregnant. I loved the story. When they met again, it was breathtaking and just adorable.
Image: Wikipedia
Full House (2004)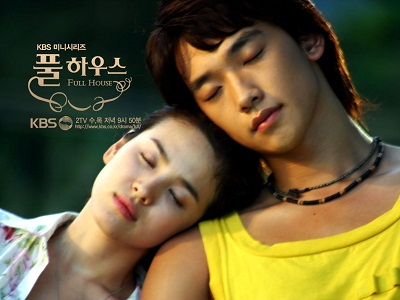 Starring Rain (Lee Young-jae), Song Hye-kyo (Han Ji Eun), Han Eun-jeong (Kang Hye-won) and Kim Sung-soo (Yoo Min-hyuk). I don't know anyone who doesn't love this show. Full House is just full of cuteness and romance. They were the total opposite of each other. It was funny though how they married each other because Young Jae just wanted to make his ex jealous. Han Ji had no choice because she had to get her house back. Complicated, eh?
Image: KBS
Princess Hours (2006)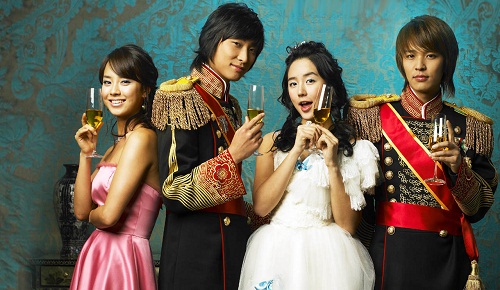 Starring Yoon Eun-hye (Shin Chae-kyeong), Ju Ji-hoon (Crown Prince Lee Shin), Kim Jeong-hoon (Prince Yul) and Song Ji-hyo (Min Hyo-rin). How can you not swoon over this Koreanovela that started to Prince Shin who really didn't like Eun-hye, he just married her for their family's tradition and after his girlfriend—Hyo-rin— rejected his proposal. I loved every inch of the episode. How they developed for each other and how they learned to love each other. I loved how this Koreanovela evolved, how a simple hug between the two characters made the viewers go wild. Including me!
Image: Fanpop
Memories of Bali (2004)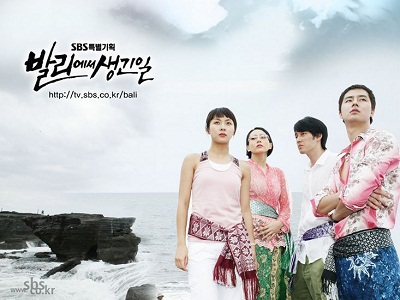 Starring Ha Ji-woon (Lee Soo-jung), Zo In-sung (Jung Jae-min), So Ji-sub (Kang In-wook), and Park Ye-jin (Choi Young-joo). It is also known in the title "Something Happened in Bali". This a wonderful love story that will make you fall in love and cry at the same time. It's a passionate and heartbreaking koreanovela. The music, oh my god, the music used by Memories of Bali kills my heart every time I watch the show. I was just disappointed with the ending, but that's just how Koreanovelas work sometimes.
Image: Fanpop
Boys Over Flowers (2009)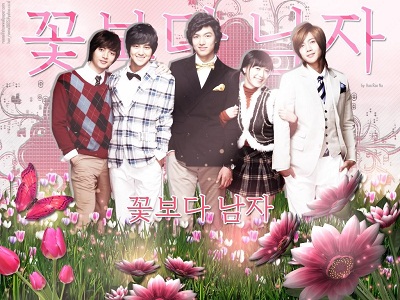 Starring Ku Hye-sun (Geum Jan-di), Lee Min-ho (Goo Jun-pyo), Kim Hyun-joong (Yoon Ji-hoo), Kim Sang Bum (So Yi-jung), Kim Joon (Song Woo-bin) and Kim So-Eun (Chu Ga-eul). The Korean adaptation of Meteor Garden, although I can't really compare the two because they are just different from each other even though they have the same plot and all. I didn't actually like it, I think Ku Hye-sun didn't give any justice as the female lead. Sometimes her facial expressions are just inappropriate. Anyway, this doesn't mean that I don't like the entire show. I also have my share of favorite scenes.
Image: Fanpop
Sweet 18 (2004)
Starring Han Ji-hye (Yoon Jung-sook), Lee Dong-gun (Kwon Hyuk-joon) and Lee Da-hae (Moon Ga-young). I love the whole concept of the story. A Korean tradition that forced the two lead characters to marry each other. The girl was 10 years younger than the man she was going to marry. Isn't that cute? I just love May-December love affair, as long as the man is the one who is older than the girl. You'll definitely love how they got attracted to each other throughout their married life.
Hana Kimi ( 2006)
Starring Ella Chen (Lu Rui Xin), Wu Chun (Zou Yi Quan), and Jiro Wang (Jin Xiu Yi). Ella Chen and Wu Chun should definitely make another show together. They are just perfect on screen, even in off screen. And also, pretending as a boy is no piece of cake and it's really cute how the characters fell for each other. The added fact why I love this Koreanovela is that they never failed to make their viewers laugh. It was simply hilarious!
Endless Love: Autumn in My Heart (2000)
Starring Song Seung-heon (Yoon Joon-suh), Song Hye-kyo (Yoon/Choi Eun-suh) and Won Bin (Han Tae-seok). I honestly enjoyed their childhood days more than the episodes where they grew up. I don't know but Song Hye-kyo's character is just too much to bear. Tragic and just sad.
Endless Love: Winter Sonata (2002)
Starring Bae Yong-joon (Kang Joon-sang/Lee Min-hyeong), Choi Ji-woo (Jeong Yoo-jin), Park Yong-ha (Kim Sang-hyeok) and Park Sol-mi (Chae-rin). I loved the story compared to Autumn in My Heart. Even though tragic events seemed to keep on pulling their love story apart.
Stairway To Heaven (2003)
Starring Kwon Sang-woo (Cha Song-joo), Choi Ji-woo (Han-Jung-suh/Kim Ji-soo), Kim Tae-hee (Han Yoo-ri) and Shin Hyun-joon (Han Tae-hwa/Han Chul-soo). I could not accept the fact that this Koreanovela is so tragic I couldn't even stand watching it. Yes, it was romantic but there were more sad moments than happy moments. One minute they were back together in each other's arms and then the next they were already far from each other because of the conflict that keeps coming and coming.
My Sassy Girl (2001)
Starring Cha Tae-hyun (Gyun Woo) and Jun Ji-hyun (The Girl). This koreanovela is unquestionably good. I loved how quirky the show every episode. I feel sorry for the male character though; the heroine was just too hyper. Plus I don't think there's still a man who can extend his patience for a girl who does nothing but mischief.
Playful Kiss (2010)
Starring Jung So-min (Oh Ha Ni), Kim Hyun-joong (Baek Seung Jo), Lee Tae-sung (Bong Joon Gu) and Lee Si-young (Yoon Hae Ra). Being rejected by the man you love hurts a lot, and maybe that was one of the reasons why viewers loved this Koreanovela, because some of the viewers can relate to the girl. They would think that somehow, in the near distant future (Eherm), the love of their life would reciprocate their love.
Secret Garden (2010)
Starring Ha Ji-won (Gil Ra-im), Hyun Bin (Kim Joo-won) and Yoon Sang-hyun (Choi Woo-young). The turned of event where the male and female lead exchanged bodies was one of the best part of this Koreanovela. Their arguments and dislike for each other at the beginning just made the whole story much better.
My Girlfriend is a Nine-Tailed Fox (2010)
Starring Lee Seung Gi (Cha Dae-woong) and Shin Min Ah (Gu Mi ho). Complicated as it may sound, having a supernatural girlfriend, the story was awesome. The lead characters played the role perfectly. I may also add that Mi Ho is the cutest girl, ever!
Coffee Prince (2007)
Starring Yoon Eun-hye (Go Eun-chan), Gong Yoo (Choi Han-gyul), Lee Sun-kyun (Choi Han-seong) and Chae Jung-an (Han Yoo-joo). Yes, I know what you're thinking… the plot is very familiar. A girl who pretends to be a boy in order to flow with the situation. Nevertheless, you cannot contradict that this Koreanovela is cute and had swept away the viewers' feet.
Lie To Me (2011)
Starring Yoon Eun-hye (Gong Ah-Jung), Kang Ji-hwan (Hyun Ki-joon), Sung Joon (Hyun Sang-hee) and Jo Yoon-hee (Oh Yoon-joon). My friends kept on blabbing about this show so I had to see it for myself. First of all, I loved it… a bit. For the following reasons: the actors and actresses were really good, the choices of music used were nice and their fashion choices were superb. You really can't complain while watching it because they were just so good to look at. But then, I just didn't like how 'boring' the climax was. It's supposed to be great. Summarizing the plot though, Lie To Me is a good Koreanovela to watch.
My Name is Kim Sam Soon (2005)
Starring Kim Suna (Kim Sam Soon), Hyun Bin (Hyun Jin Heon), Jung Ryeo Won (Yoo Hee Jin) and Daniel Henney (Dr. Henry Kim). It's refreshing to see an imperfect female lead. She was fat but it didn't stop her from finding his true love. For the hopeless romantics and cooking enthusiasts, this is a great show. As well as those who do not know how to cook. It's very entertaining.
City Hunter (2011)
Starring Lee Min Ho (Lee Yoon-sung) and Park Min-young (Nana Kim). Lee Min Ho is surely one of the most handsome Korean actors. He just carried his outfits really good. The plot is familiar… again, but the good thing was the characters were able to give justice about the revenge plot.
AUTHOR'S NOTE: The list of top korean TV series here is the author's personal preferences. It may not be your list of Korean drama series but the author hopes that this may serve as a guide on what to look out for. Thank you.
DISCLAIMER: Please note that the photos and images use for this post is for informational purposes only. The author just want my readers know how the story looks like and the characters played in every TV series. The author don't intend to infringe any copyright. If you wish to remove the photos or certain photo off this post, please hit the "contact us". Thank you very much.