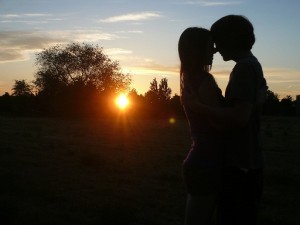 Love, love love….Maybe you have been dreaming of the day that he will look your way, smile, and invite you to a date. Or you might be one of those girls who is wondering when will the day come when he will be your special guy. You might be dreaming about someday, you and him will be together, loving each other. And you might also be mulling over on how to do that?
You can quit putting all the mental strain you have about how to make him fall in love with you because there are practical ways that you can do to let him notice you and fall for you. Start working on winning over the heart of the man of your dreams. Start reading these dating tips and you'll soon have the date you have been dreaming about!
How to Make Him Fall for You?
If you want a guy to notice you, you should know how to put on a dress properly and attractively. Properly and attractively do not mean to say that you have to overdo make-up and wear tight dresses to show off curves. Actually, you will be more pleasant to look at when you put on clothes that are clean, modest, and well-chosen styles that fit your look. You can also check out for fashion trends that can help boost your dressing style or ask for tips from your girlfriends.
Your plan to win him will be a catastrophe if you are always nervous in front of him. Instead, act natural, smile, and make light conversations. Do not be so self-conscious because he will notice it. But if you have a problem with self-confidence, draw confidence by thinking of your positive traits. It may also help you to be confident by thinking over and over again that you can do it.
Preserve Your Independence
Avoid putting all your attention and time to the guy. He will not appreciate excessive attention because that will make him feel choked. To win him over, try to control your feelings to be with him most of the hours or to have a talk with him almost all the time. Give him space for himself and for yourself. Do the usual chores that you do before, spend time with your friends, and let him also do his thing without your constant presence around him.
Do not give it all and say it all to your guy. Reserve some facts private so that you will appear mysterious and that will give him one reason to keep running after you. However, do not also overdo being mysterious that you do not spend time with him anymore or you rarely converse with him because you are afraid to tell how you feel. Balance things so that you won't appear too aggressive nor too tight. Play a natural hard-to-get girl.
Express your feelings with the right words. You don't have to overdo it. You don't have to tell the whole world that you like him. It will surely turn him off. But you can express your feelings in a subtle way. Like for example sending some short, but subtle love quotes for him on his phone as SMS. You can infuse these love wordings in a good morning or good night greetings.
Knowledge is power. And knowledge can make you wiser. So to know how to deal with him and give him something that he won't forget about you, get to know him first. Knowing his name and how he looks is not knowing the guy. Acquire information about his likes, dislikes, hobbies, interests, favorites, and other things that will give you a hint on who he is. But if it happens that his interests are unlike yours, do not pretend to like what he likes. You can be honest about it but open your mind to start seeing his interests as valuable and listen to him when he talks about them. Besides, it is never wise to assume you know a guy when you truly don't. It is not only unwise but risky as well. Before going out with somebody or make somebody fall for you, make sure you know that person for real. There must be some reason why you love him…. Find out!
Girls like guys who have sense of humor. Similarly guys appreciate girls who have their funny side. Converse freely and deliver your jokes confidently. You will surely earn plus points when you put on your sense of humor and make him laugh during your talks. Having humor is an affirmation to him that you are not the kind who passes the time too seriously, without some friendly laughs. A warning, though, do not overdo it or else he would think you are never serious. You might also appear aggressive when you are too openly joking for almost everything he says.
You will be running an extra mile in your race to win his heart by letting him feel that he is important. The best way to do it is to listen to him. Make him feel that whenever he talks, he is always worth listening to and you are happy doing it. You can ask him how he is or how his day is. Make him realize what love is. Laugh at his jokes. Introduce him to your friends. Offer words of appreciation on how he looks and on what he does and how he works. Make your appreciation sincere.
After reading this, I am sure your mind is working double time on how to start your goal of winning your guy. Wishing you success and happiness. But remember, at times waiting for true love to come your way can be more satisfying than winning someone's heart by your wit.