I'm not sure how all this started. But one thing is for sure, I'm kinda hooked with pick up lines thing. As far as I remember, I got to know about this silly, and cheesy lines when I watched a comedy show here in the Philippines. This nighttime comic show is called "Bubble Gang". Basically, there is a segment there where there we two groups, with a representative each. One of the infamous "battle" representative is known as "Boy Pick Up" (played by Ogie Alcasid).
Suggested for you: Devina DeDiva Racist Comments Against Filipinos
What funny about this man is that his pick up lines are well, sorta confusing and it seems that it wasn't a pick up line at all. The girl, known as "Neneng B", played by Sam Pinto, always make this confused and silly face since she doesn't understand Boy Pick-up's lines. The "B" stands for "Bakit" since she always ask "Bakit", translated as "Why" in English as response for the lines of the pickapista. Some of the samples of Boy Pick up lines are: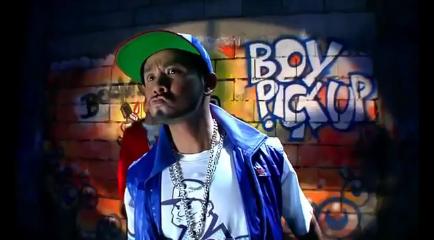 Boy Pick up: Kotse Ka Ba? (Are you a car?)
Neneng B: Bakit? (Why?)
Boy Pick Up: Kase…. Gusto kong maging astronaut… Boom! (Coz I want to be an astronaut)
Boy Pickup: Dumbbell ka ba? (Are you a Dumbbell?)
Neneng B: Bakit? (Why?)
Boy Pickup: Kase…. MAHAL ang Parking! (Coz Parking is Expensive!) Booom!
Boy Pickup: Marunong ka bang Lumipad? (Do you know how to fly?)
Neneng B: Bakit? (Why?)
Boy Pickup: Bakit Hindi?? Booom!(Why Not?)
See the connection there? Confused? You're not alone. But that's where the comic part is. The way he delivered his lines, how smug he is, thinking that he was great and how he always win in each battle and was considered as a Pick Up Line Champion, it's truly epic.
In fact, he was infamous for being as the "Undefeated Boy Pick Up". I laugh out loud every time he is voted as the winner while his opponent gave better, really sweet pick up lines. The reactions from the audience and his opponent is priceless. Here's one video clip of this comedy segment:
As this segment became more popular, there are some additional comic moves that spice it up even more. More characters sprung out. Of which, the most popular is "Boy Back Up". He is the one who, well, back Boy Pick Up lines up.
Samples:
Boy Pickup: Sugar ka ba? (Are you Sugar)
Neneng B: bakit? (Why?)
Boy Pickup: Kasi Kilala ko si ELMER! (Coz I Know Elmer?)
Neneng B: Sino si ELMER? (Who's Elmer?)
Boy Pickup: Kaklase ko nung grade 4… (My classmate in grade 4)
—- Long Silence then…. —–
Boy Back Up: Henyo ka Pickup!!! (You're a Genius Pick up!)
Boy Pickup: Gusto mong makakita ng MAGIC? (Do you want to see magic)
Neneng B: Magic? Oo.. (Magic? Yes…)
Boy Pickup: That's nice!
— Long Pause, then…. —
Boy Back Up: Ang Lupet mo PICKUP!!! (You're the Man, Pick-up!)
Since then, pick up lines became more popular. I'm not sure if that was just me but as far as I know, that's where this all started. Social networking sites has been swarmed with statuses and tweets with those silly pick up lines. The difference is that all those lines make sense, unlike boy pick up's. Some are used for making girls and boys feel good. They are used by suitors as well. Some people, especially teenagers send these silly and cheesy lines as SMS and text messages.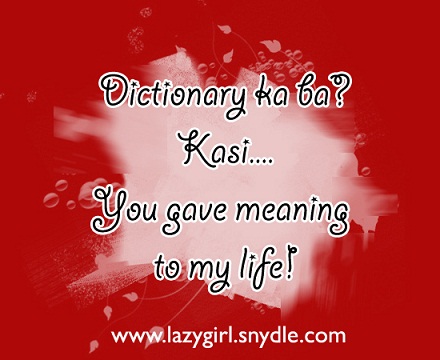 Here are some sweet English pick up lines:
Can I have directions?
[To where?] To your heart.

Do you have a BandAid?
I just scraped my knee falling for you.

Boy: Are you a dictionary?
Girl: Why?
Boy: Coz You gave meaning to my life

Boy:Are you religious?
Girl: Why?
Boy: 'Cause you're the answer to all my prayers.

I'm a bee
Can you be my honey?
Source: Pickuplinesgalore
For sweet and corny pinoy pick up lines, here are some samples.
Boy: Minamalat na naman ang puso ko..
Girl: Bakit?
Boy: Paano kasi, laging sinisigaw ang pangalan mo..

Boy: Pa-picture tayo?
Girl: Bakit?
Boy: Para madevelop tayo

Boy: Pinaglihi ka bas a keyboard?
Girl: Bakit?
Boy: Kasi Type kita

Boy: Ibibili kita ng salbabida
Girl: Bakit?
Boy: Kasi baka malunod ka sa pagmamahal ko
Source: Gamerzconsole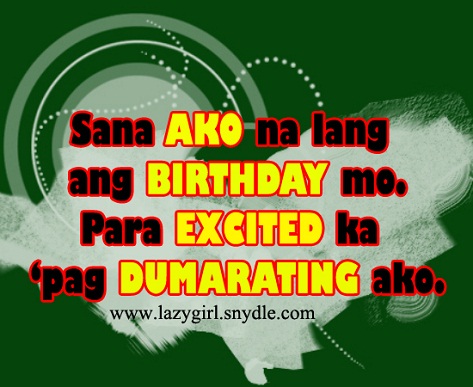 But not all pick up lines are sweet. There funny and sarcastic ones too.
Tao ka ba?
Bakit?
Naninigurado lang!

TANGA ka ba?
Bakit?
Halata naman eh!

PADER ka ba?
Kasi ang tigas mo na, ang KAPAL mo pa!

Encyclopedia ka ba?
Kasi ang KAPAL mo!

ANGRY BIRD ka ba?
Ang sarap mo kasing ihagis!
Source: Tagalong Pick up lines
Do you have some on your mind? Feel free to share here. C'mon, don't be shy. Spread the humor and love.