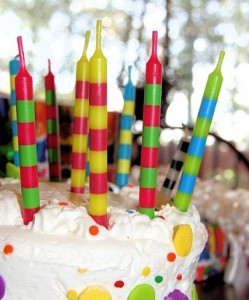 As a child, one of the high points of every birthday was picking out the type of cake my mother was going to make. We would look through a huge book of cake ideas and then pick the one we liked best, or went with the theme of the party. A point of interest for everyone at the party, thcake always was a whimsical and fun way my mother showed me and my siblings she loved us.
Cakes can even be used as a present. They are not a huge financial investment, and are thoughtful because you had to put a little thought and elbow grease into completing the final product. Here are some ideas that will sure to make any birthday girl or boy feel special and happy on their big day. Most of these get away from the normal cake in a pan and are creative, cute, and fun!
Ideas for Kid's Birthday Cakes
Jewel Box
Perfect for the girly girl in the family or older women who has a vast collection of jewels. This cake can be as easy or difficult to make as you would like. Form the cake into a jewelry box by cutting a cake into four pieces and forming it into a box. Frost it and then decorate it with some fun costume jewelry you picked up at the local dollar or party discount store.
Over the Hill Cake
Is someone you know turning the dreaded 30, 40, or 50? Poke a little fun at them and give them this creative cake. Begin by make a regular square or rectangular cake. Next frost it with green and black icing in order to make it look like a grassy field. To finish it off, cut oval shaped cookies in half and places them along your previously frosted cake. On one of the cookies write, "R.I.P." with the birthday person's name. This graveyard cake will surely result in lots of laughs for everyone.
Computer Cake
This cake is perfect for the tech savvy individual in your family. Start the process by making two flat, square cakes. Set one cake up on its side and place the other against it to make it look like the monitor and keyboard of a computer. Frost the cake in two different colors to contrast with the screen and keyboard. Write a birthday message on the screen in frosting or cake decorating gel to individualize this cake!
Ladybug Cake
The child who is always outside collecting creatures and bugs will go absolutely crazy over this creation. Begin by making a basic sheet cake. Cut a circle out of the baked cake. Depending on how big or small you cut your circle you can even make two. Next, frost the circle in bright red frosting and detail it with black spots using gel frosting to create the signature ladybug detail. To finish it off, put two pieces of black licorice at the top to give your bug antennas.
Bubble Gum Cake
This cake is purely genius, adorable, and simple. Like the ladybug cake, make a flat sheet cake as your starting base. Once the cake is baked and cooled, cut out a triangular shape with a flat top and then one circle. Place the circle on top of the triangular piece and you should end up with the shape of a bubble gum machine. Frost the base in a bright color and the circle in plain white. To complete this masterpiece, buy a bag of gum balls and place them in the top circle piece. Your final product will be a miniature cake gumball machine!
Doll Cake
Another perfect cake idea for a little girl is the Barbie cake. Bake the child's favorite flavor cake in an oven safe bowl. Once the cake is done, black the flat part of the cake onto your decorating surface. Frost the cake in a pastel pink, purple, or any other cute girly color. Next, buy a plastic doll, preferably a Barbie, into the top of the cake. The result should make the cake into the doll's skirt. Complete it by decorating the skirt with marshmallows, icing, or any other type of small candy.
Not everyone wants their cake to be a work of art and would rather focus on the taste of the cake. For those who want a unique cake for their birthday celebration try making a pie or cheesecake. These delicious concoctions stray from the stereotypical birthday cake, are delicious, and still can have candles put in them to be blown out! Everyone wishes to feel special on their birthday. In order to celebrate that special person in your life, your co-worker, or even your neighbor, give them a cake that they will rave about.