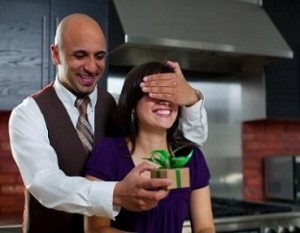 Birthdays will always be special, especially for women. Let's face it. Most women, if not all, are sentimental by nature. We love stuff that holds value, something that we can cherish and treasure. As the old joke goes, guys are the ones who are most likely to forget important dates that their girlfriends treasure the most!
This year, prove to her that you're not the typical forgetful guy by surprising her with a gift on her birthday! So I've provided tips on finding just the right present for her. Gain some plus points and thumbs up from your girlfriend by getting her something that can make her at least smile and luckily make her love you more. Here are some ideas for girlfriend's birthday gifts.
Image: Ehow
Catch her eye
If you're girlfriend is a little traditional when it comes to gifts, jewelry is a sure gift that will have her swoon! For her birthday, always look for her favorite designs or pieces which accent her features. If you're not so sure, then opting for an innovative design that is not mass-produced or found everywhere will be a safe present. Invest in a visit to a nearby jewelry shop and be amazed at the variety of jewelry that you can choose from.
Flowery love
Another popular birthday or anniversary favorite is flowers. These never fail to symbolize one's love, so if your girlfriend has a penchant for flowers head to the nearest flower shop and buy her a bouquet! Depending on her taste, you can choose among red roses, tulips, daisies, and so much more. To add a little bit of innovation, why not base the number of flowers on her age? Remember, flowers will wilt eventually so we suggest giving her a tangible gift on the side so she can remember the event even after the flowers are gone.
The gift of words
If your girlfriend is a bookworm, get her the latest book from the bookstores or from a series or author she adores. I suggest giving this present in the evening so that she'll have time to cuddle you for the gift and read it at the same time!
If you both are tech and Internet-savvy, you can also declare your love for her through a blog! Make a blog for her and mail it to her on the stroke of midnight. You can upload pictures of you two together and share your special moments with her to cyberspace! You can also declare how much she mean to you, together your romantic happy birthday wishes for her.
Music for her ears
For the girlfriend who loves music, give her a gift that will make her ears sing! You can either record a song you sang or a poem she likes, burn a CD with her favorite songs, or buying her favorite artist and album! It would also be nice if you could make the presentation of the CD sentimental, such as writing a birthday message or designing a picture of her on the cover.
Plan that Perfect Outing
Take your special girl to a place that she likes or feels sentimental about. Remember to keep in mind her favorite activities and hobbies so that you can surprise her with a date there! Also, make sure that this outing is perfectly planned so it'll be hassle free on her special day!
Your girlfriend's birthday is only one of the most special days that you can express your love and appreciation for her. Just keep in mind to match your gift to her taste and lifestyle, and most importantly: get her the gift that expresses your emotions the best! We wish you good luck in your gift hunting for your special someone!