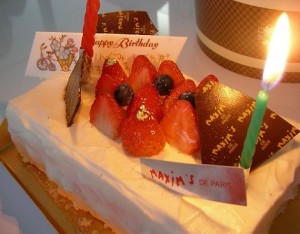 Our co-workers are the people who we spend most of our time with in the office. Some become our best friends, some become a shoulder to cry on, and some become people who we can hang out with when the day's over. With all the day-to-day routine, it's certainly a special day when one of them is celebrating their birthday! So why not join in the fun and plan a cool birthday party for your co-worker?
There are a lot of ideas on how to make that special day fun from playing games to giving gifts, so if you're looking for birthday party ideas for the office, you've come to the right place! Here are some ideas that I can suggest on making his or her special occasion memorable
Image Source: Jetalone
Office Birthday Party
Having a birthday in the office certainly changes the mood: everyone is in a festive mood, eagerly awaiting the birthday celebrant with gifts and a cake. It is even more exciting for the one who is planning organizing the party!
Surprise birthday parties are also a norm at the office, so once you've let your co-worker know there's a celebration for him or her (intended or not), then you can let the fun begin! You can plan everything from the games to the food. Just keep in mind that you are still in the office, so keep a time limit on your party and make sure you have permission to hold the event.
Themes and Party Games
If you have co-workers which are celebrating their birthdays on the same month, then you can organize a party that combines their celebration in one day! For a small celebration, set a theme that will set minor details such as the dress code, the party decorations, and the party colors for that day. If the office is strict, see if you can get permission for tweaking the dress-code. Also, you can choose party games which you think your birthday celebrant/s will enjoy.
Corporate Birthday Greetings
What a birthday celebration without well wishing and greetings? You can surprise your co-workers with a banner with greetings. You can also set up a bulletin board where other office workers can pin their happy birthday wishes note to the celebrant. This will surely make his/her day right after he/she goes to work. Birthday cards also work well in these instances. Here are some samples of birthday greetings:
This card is filled with wishes
For a very special day,
One that brings a world of joy
And happiness your way-
It's also filled with loving thoughts
Especially meant for you,
For you're the kind of person
Happy things should happen to!
~ ~ ~ ~ ~ ~ ~ ~ ~
Hope it adds
Some special pleasure
To the hours of your day
To know you're being thought of
In the very warmest way…
And when your birthday's over,
Hope that you'll remember, too,
The same warm thoughts as always
Will keep going out to you!
Source: About.com Happy Birthday Wish
Party Arrangements
Once the theme is set, make a list of activities which your co-workers/guests will do. It can include cutting the cake, making short speeches, or playing games. Party arrangements can also depend on the time which you hold the party. We suggest holding it at breakfast time for employees who start working late, lunch time for employees who can't commit to any other time because of their work, or afternoon to close the end of the day. As for food, you can opt for delivery if you're too busy or a potluck meal where everyone brings in a homemade dish.
Menu
Cake is the most essential food in every birthday. Take note of what your co-worker likes while deciding which cake to get. Since most offices don't allow eating at cubicles or work desks, you can ask permission from your nearest cafeteria or balcony to host the food for the party. We suggest getting appetizers and finger food because they are convenient to eat. Again, depending on your time, you can also match the food to the time of the party.
With these office birthday ideas, we hope you and your co-workers have a great time in breaking the monotonous routine of office work while celebrating someone's special birthday!