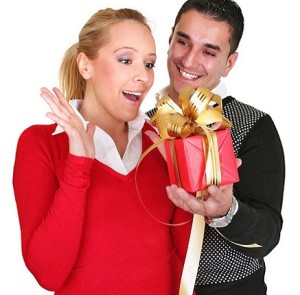 Giving a gift to another person can be a complicated affair. It usually needs to stay within a certain budge, catered to the person's likes and interest while also being something they will use, or find appealing. When it comes to an anniversary, the criterion for finding a perfect gift becomes even narrower. To get you started here are some ideas for a man, woman, or even more neutral gifts that will be sure to ensure you another joyous year of marriage.
Most men will usually admit to having a difficult time finding a gift of any sort for their wives. If you are stumped by what to get for your wife this year, try some of these ideas.
Wedding Anniversary Gifts for Her
Jewelry— This is a gift that never fails to please the receiver. I would say it is arguably the best bet when picking out a gift. Diamonds in earrings, rings, and bracelets are great ideas. However, if you want to try something a little different, pick out a piece of jewelry that has your wife's favorite stone, like a sapphire or ruby. If you want to get even more creative, try adding a band to your wife's wedding ring or even replacing it with a bigger stone.
Second Honeymoon — Your anniversary is the perfect excuse to plan that trip you have always wanted to go on. Call it a second honeymoon and it is the perfect anniversary present. To make this special for your wife, make all the arrangements for the trip by yourself. Pick the place, make the reservations, and even try whisking her away unexpectedly by getting the time off of work for her. Time away with each other is a marvelous way to celebrate another year of marriage.
Romantic Dinner — If your wife is a busy women and making dinner at the end of the day is a tedious chore, try making her dinner with the kids gone one evening. Although eating out is always nice, a homemade meal in your own home is the perfect gesture. Your wife will appreciate the gesture as well as all the effort that was put into the preparation. Set the table with your best china, light some candles and prepare for a wonderful evening.
Wedding Anniversary Gifts for Him
When it comes to gifts for men, they can be difficult to please. With women, the options of jewelry, flowers, and clothes are always an option. However for men, they usually have everything they need. Here are some gift ideas that your man will surely love.
Hobby Gifts – Does your spouse love golfing, video games, sports, or any other sort of hobby? Try gifting him that new game console controller, or even a new golf club to add to his collection. The great thing about this type of gift will it shows you pay attention to his interests, while also getting him something that he will use regularly.
Electronic Gadgets — I have not met many men who do not enjoy the most up to date item in technology. Although they can be a bit pricey, they are a gift that will be a big hit. Try shopping ahead of time for specials online on that gadget your husband has been eyeing. From a new cell phone to the most up to date computer, your spouse will surely be pleased.
Wedding Anniversary Gifts by Year
If none of these options sound good, a great alternative to the regular gift giving on your anniversary is to apply a theme to it. In Europe, each year of marriage is assigned a concept. Not only does this make your anniversary present unforgettable, it also reduces the pressure of finding the perfect gift.
First Year — The theme for this year is paper. Try hanging some paper Chinese lanterns above the dinner table, or frame love not given to you by your spouse.
Second Year—For your second year of marriage, the theme is cotton. This can be the perfect starting point to give your spouse a luxurious bathrobe, or even a new pair of slippers.
Tenth Year—After a decade of marriage, the theme is tin or aluminum. For a whimsical idea, stack empty soda cans on top of the fridge or in another area. On your anniversary, build a tower or any other structure with your spouse.
Twenty-fifth Year—The theme for this milestone is silver. An obvious choice would be to get your spouse some sort of jewelry. You can even get more creative by engraving matching key chains, or new silverware for your dining table.
Although these are only a few samples of gift themes by years, you can research the theme for your next wedding anniversary. Remember, every year of marriage is an accomplishment and should be celebrated accordingly!