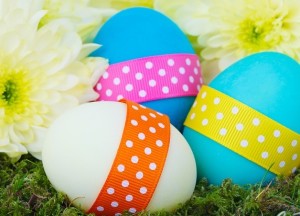 Easter is a religious event, holding significant value especially for Christian Catholics. Usually falls between the months of March and April, Easter is celebrated with so much passion and devotion. Since these months are also a starting point for the coming of Spring season, Easter has become a time for family and kids to bond and have fun.
Hunting for Easter eggs, Easter egg relays, memory Easter games and many other fun-filled games are common in Easter holiday. These are perfect fit for a family to spend quality and precious time together. To maximize your Easter holiday, plan a great Easter time with your family. So when Easter comes, as you greet your loved ones and express your warmest happy Easter wishes, enjoy the time with your family with these fabulous Easter activities!
Fun Easter Activities
Color and Dye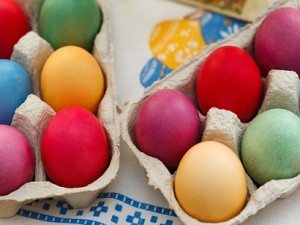 Kids love to color objects. The family can have a great time together dying Easter eggs using food coloring. Half fill some cups with water and pour one teaspoon of vinegar to each. Drip some amount of food coloring to each cup. It is more fun to use different food coloring in each cup. Then boil the eggs that you are going to dye. When all is done, gently put one boiled egg in each cup using a large spoon. When the egg has already the color that you wanted, take off the egg and let them dry. This activity provides the kids with the opportunity to expand their creativity at dying Easter eggs.
Easter Egg Hunt
Easter Egg Hunt is an all-time favorite for many kids who love the thrill of hunting and discovering hidden objects. Adults can also join in the fun which makes this activity a great avenue for the family to enjoy Easter together. Easter egg hunt can also be played in many different ways. It can be easily modified to be enjoyed in novel ways to avoid monotony. You can do the simple hiding of eggs and let the kids search for them or reverse the play, let the kids hide the eggs while the adults do the hunting. Easter egg hunt can also be done by hiding the dyed eggs you have made and asking the children to look for only specific color of eggs. Or it can also be enjoyed by using plastic Easter eggs with toys or Easter candies inside.
Bake and Mold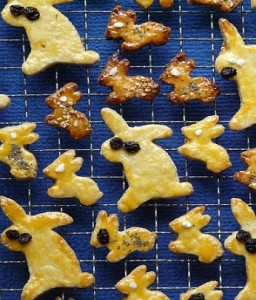 The kitchen is also a great place to do the fun in Easter! There is more to the kitchen than just eating during Easter. Your family can enjoy baking together before enjoying eating. This is especially delighting and educational for the kids. They can bake their own Easter bunny heads. To bake your cute Easter bunny heads, form the white bread dough into a circle using your hands. The circle is about the size of a mandarin orange. Shape the ears of the bunny by stretching and patting the dough. This should measure about 4 inches by one inch. Make it more creative by pinching the edge of the ears and the tip portion of the bunny's head. Give time for the dough to rise then you can enjoy baking your home-made bunny heads for 15 minutes. You and your kids can decorate the bunny heads. Pink frosting can be decorated in the bunny's head. To add eyes, you can use raisins and coconut to put whiskers in the face.
Bunny Ears Headband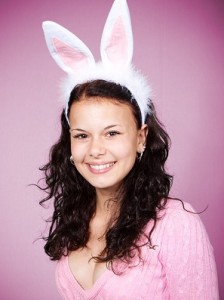 Bunny ears are quite popular in Easter, so why not make your own! Use hard construction paper to cut shapes of a bunny's ear. Trace long oval shapes in the paper and cut them out. Cut a small portion at one end of the oval so that it will have a straight edge. Then fold the straight edge back on itself so that a tag will be formed. Adorn the ovals with glitters and colored pens. Glue the ovals on the headband like the ears of a rabbit. Apply the glue at the tabs and stick the tabs the headband. Dry the ears to make sure it won't fall out. When it is done, you can wear the bunny ears in your Easter party!
Easter Cards Craft
Making Easter cards with your kids can prove to be fun and very entertaining. At the same time you can watch your children play and express their skill and creativity in art. This is a simple yet valuable activity for the family to do together during the holiday. Cardboards and papers can be easily folded to form greeting cards. You can choose your own preferred color of paper and cardboard to use. With crayons, marking pens, stickers and other decorative pieces, you can construct beautiful Easter cards for family and friends.
The making of the Easter cards depends on the age and ability of your kids. Simple cards can be done by your little ones, and much more artistic cards can be created by your older kids. The kids can also express their poetic side by writing little notes, poems, or short rhymes and song in the cards they did. The important thing is to give them the liberty to do what they enjoy the most and to let the family experience a united effort at creating something unique and ingenious work of art.